Your printer friendly content from www.vtsheriffs.com on September 30, 2022.
Vermont Sheriff's Departments: Addison County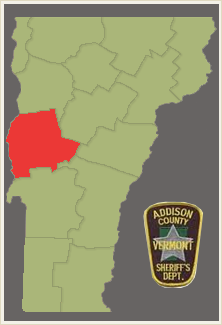 Addison County Sheriff's Department
35 Court Street
Middlebury, VT 05753


Phone: (802) 388-2981
Fax: (802) 388-2249

Website: www.vtsheriffs.com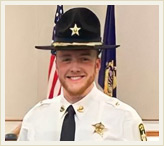 Sheriff:
---
Sheriff Peter Newton
Sheriff Peter D. Newton grew up in Salisbury, Vermont and has resided in Middlebury for the last 28 years, a life long resident of Addison County.

Sheriff Newton was sworn in as the 41st Sheriff of Addison County on February 1, 2019, and has over 28 years in the public safety field.

A Vermont Full time certified police officer, and Training Assistant at the Vermont Police Academy.

Peter started as a Patrol Officer for the Middlebury Police Department in February 2003 and worked there until September 2013. Peter started working for the Addison County Sheriff's Department in April 2012, and worked his way from Deputy to Detective Sergeant to Lieutenant and finally Sheriff.

Prior to being in law enforcement Peter had 13 years in the Vermont Emergency Medical Field with the Middlebury Volunteer Ambulance Association . Peter was Advanced life support trained, a Crew Chief, Heavy Rescue Chief, Operations manager, Board member on the MVAA board of directors. Peter was also a transport medic for the Fletcher Allen Coordinated Transport team (FACT).

Addison County Little League & Babe Ruth baseball coach for 8 years.

The Adison County Sheriff's Department is a 20 Person Department with 15 Sworn Deputies and 5 Civilian personnel. The sheriff's Department is Located at 35 Court Street in Middlebury, and we are active in all 23 towns in Addison County.

The Sheriff's Department does,
Highway Safety Enforcement.
Commercial Motor Vehicle Enforcement.
Criminal Investigations with the Addison County Unit for Special Investigations and the State's Attorney's Office.
Court Security.
Prisoner Transport.
Mental Health and DCF Juvenile Transports.
Special Police Details.
Civil Process Service.
National Forest Patrols.
Illegal Burning and Solid Waste Investigations.
---
History
The Addison County Sheriff Department was established in the late 1700's and has been at it's current location since being built in 1845 to include a jail. The jail had been in continuous operation from 1845 until 1971. The jail was re-opened in the mid 1980's and closed after the expiration of a federal contract in May of 2011. Since then, the space has been renovated and is home to the Addison County Unit for Special Investigation. The Addison County Sheriff Department currently has 17 full and part-time Deputies serving the Addison County Community.
---
Our Department's Historical Listing of Sheriffs'
1785 to Present..
Noah Chittenden - 1785-1786 (Jericho)
Gamaliel Painter - 1786-1787 (Middlebury)
Samual Strong - 1787-1789 (Addison)
John Chipman - 1789-1801 (Middlebury)
William Slade - 1801-1811 (Cornwall)
Johnathan Hoyt Jr. - 1811-1812 (New Haven)
John Willard - 1812-1813 (Middlebury)
Samual Mattocks - 1813-1815 (Middlebury)
Johnathan Hoyt Jr. - 1815-1819 (New Haven)
Abel Tomlinson - 1819-1824 (Vergennes)
Stephen Haight - 1824-1828 (Monkton)
Seymour Selleck - 1828-1831 (Middlebury)
Marshall S. Doty - 1831-1833 (Addison)
Azariah Rood - 1833-1835 (Middlebury)
William B. Martin - 1835-1836 (Middlebury)
Azariah Rood - 1836-1837 (Middlebury)
Ethan Smith - 1837-1839 (Monkton)
William B. Martin - 1839-1840 (Middlebury)
Adnah Smith - 1840-1842 (Middlebury)
Gajus A. Collamer - 1842-1844 (Bristol)
David S. Church - 1844-1859 (Middlebury)
William Joslin - 1859 (Vergennes)
Gajus A. Collamer - 1859-1867 (Bristol)
Isaac M. Tripp - 1867-1878 (New Haven)
Nobel F. Dunshee - 1878-1884 (Middlebury)
Howard Clark II - 1884-1892 (Lincoln)
Kent W. Merritt - 1892-1898 (Shoreham)
Thad M. Chapman - 1898-1904 (Middlebury)
William H. Cobb - 1904 (Middlebury)
Olin A. Smith - 1904-1919 (Addison)
George A. Farr - 1919-1927 (Bristol)
Nobel J. Sanford - 1927-1933 (Middlebury)
Ralph C. Sweet - 1933-1955 (Bristol)
Morton A. Coons - 1955-1961 (Middlebury)
Allen J. Chandler - 1961-1967 (Middlebury)
Alfred B. Chio - 1967-1973 (Middlebury)
Allen J. Chandler - 1973-1975 (Middlebury)
Paul Munson - 1975-1983 (Weybridge)
James B. Coons - 1983-2012 (Middlebury)
Donald M. Keeler, Jr. - 2012-2019
Peter Newton - 2019 - Present
Towns We Serve
Addison
Bridport
Bristol
Cornwall
Ferrisburg
Goshen
Granville
Hancock
Leicester
Lincoln
Middlebury
Monkton
New Haven
Orwell
Panton
Ripton
Salisbury
Shoreham
Starksboro
Waltham
Weybridge
Whiting