Your printer friendly content from www.vtsheriffs.com on September 30, 2022.
Vermont Sheriff's Departments: Washington County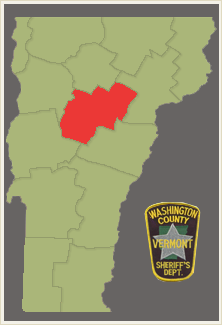 Washington County Sheriff's Department
10 Elm Street, P.O. Box 678
Montpelier, VT 05601-0678


Phone: (802) 223-3001
Fax: (802) 828-3611

Website: www.vtsheriffs.com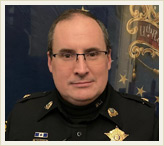 Sheriff:
---
Sheriff W. Samuel Hill
Sam Hill was born and raised in Hardwick, Vermont. Sam grew up working for his father, a local contractor/electrician and on area farms. After graduation from Champlain College, Sam began his career in law enforcement, taking a position with the Barre City Police Department, where he served for 20 years.

Sam served as the Barre City Police Departments Juvenile Officer for the last 5 1/2 years of his career. As Juvenile Officer his duties included: Investigation of Crimes against Children, such as sexual and physical abuse, supervise child sexual abuse investigations, apply for search warrants, wire warrants, non-testimonial orders, prepare cases for court, as well as coordinate investigations with Social Services and the States Attorney's Office. Cases investigated included murder, sexual and physical abuse, lewd and lascivious conduct, and child pornography.

Sam also supervised the Department's School Resource Officers, taught Juvenile Law at the Vermont Police Academy, instructed DARE and other prevention programs in school, implemented the "Christmas for Kids program" which provides food and gifts to needy families and developed and implemented the "Youth Public Safety Academy", a week long day camp for middle school students.

In July of 2004, Governor James Douglas appointed Sam to the position of Washington County Sheriff. Sam continues as Sheriff having been elected to the position in November of 2006 and 2010. As Sheriff he oversees a full time staff of 12 and part time staff of 30. Having only a small County Budget, Sheriff's Department's in Vermont are small businesses. The Sheriff is responsible for overseeing the business, law enforcement and human resource aspects of the Department.

By statute the Sheriff is responsible for the transportation of prisoners, mental health patients and juveniles, who are in the custody of the State. Sheriff's are also required by statute to serve civil process within the County. As Sheriff, Sam is also responsible for Court security at Supreme Court, the Superior Court of Washington Count, Criminal, Family and Civil Divisions, as well as Environmental Court. Sam also oversees patrol, security, and traffic control contracts for Sheriff's Department. As Sheriff Sam also interacts and coordinates with other State, Municipal and County agencies, in order to better serve the people of the County and the State. Sam also continues to teach Juvenile Law at the Vermont Police Academy.

Since becoming a police officer Sam has received many commendations and awards. On May 27, 2010 at the Annual Chief's and Sheriff's meeting the Vermont Sheriff's Association recognized him by awarding the William Graham Award, for his outstanding service to the enhancement of the mission of the Vermont Sheriffs' Association. On June 12, 2003, Sam was presented with the Commander's Citation Award from the Vermont State Police for outstanding investigative efforts and professional interactions in the Stratton homicide investigation. In June of 2002, Sam was named the American Legions Northeast Regional Law Officer of the year for 2001 and was selected runner-up for the National Law Enforcement Officer of the year in addition to being chosen Vermont Law Officer of the year. He has won service awards from the Barre Elks Club for work in the Drug Awareness Program and has received citations and commendations for dedication to duty and in appreciation for his work as a DARE instructor from the City of Barre.

Sam currently serves on the Vermont Incident Based Reporting System Board and has been appointed by the Governor to serve on the Vermont Domestic Violence Task Force and the Domestic Violence Death Fatality Review Commission.

Sam and his wife, Shannon, live in Montpelier where they have resided since 1987. They have three adult children.
---
History
In 1810 Jefferson County, Vermont was established. In 1814 the name was changed to Washington County, renaming the County after George Washington. Washington County is approximately 695 square miles and is one of two Counties' (Washington and Lamoille) that are not bordered by another State or Canada. In 1820 there were 14,113 people in living in Washington County. The 2010 census found 59,534 people now to be living in the County. Montpelier is the Shire Town and is also the State Capital. The current State House is actual the 3rd, as the first two burned down.

Washington County's first jail was built into the dwelling erected by Montpelier's founder, Jacob Davis, shortly after his arrival as the first settler in 1787. That building was given to the County by his son Thomas Davis and was rebuilt in granite in 1832. Another jail was built in what is now known as Jail House common, at 24 Elm Street, Montpelier, Vt.

Completed in 1900, a new Jail and Sheriff's House was built at it's currently location, 10 Elm Street, Montpelier, Vt. The Sheriff's House is now the Sheriff's Office and the Jail has been remodeled into Probate Court.

The Sheriff's Office currently has 10 full time Deputies, two Office Staff members, the Sheriff and many part time Deputies. The Office preforms its statutory functions of transporting prisoners, mental health workers and juveniles as well as serving civil process. The Office is also responsible for security at Criminal, Family, and the Civil Divisions in Washington County, as well as Supreme Court. The Office contracts with 10 towns with in the County for Motor Vehicle Patrol as well as preforming a multitude of security and traffic functions throughout the County.
---
Our Department's Historical Listing of Sheriffs'
Sheriffs of Washington County Vermont
1811-1813 - John Peck
1813-1814 - Chapin Keith
1814-1815 - George Worthington
1815-1819 - Chapin Keith
1819-1825 - John Peck
1825-1832 - Rawsel R Keith
1832-1833 - Milton Brown
1833-1838 - Alvin Carter
1838-1840 - John Starkweather
1840-1841 - Isaiah Silver
1841-1843 - Andrew A. Sweet
1843-1846 - George W. Barker
1846-1848 - Addison Peck
1848-1849 - Ira McLoud
1849-1850 - Joseph W. Howes
1850-1851 - Ira McLoud
1851-1853 - Issac W. Brown
1853-1854 - James M. Richardson
1854-1856 - Obadiah Wood
1856-1858 - Jonathan H. Hastings
1858-1860 - Issac. C. Brown
1860-1862 - Jasper H. Orcutt
1862-1864 - Angier M. Jackson
1864-1866 - Orren W. Orcutt
1866-1869 - Clark King
1869-1871 - Alonzo C. Pearce
1871-1872 - Issac W. Brown
1872-1876 - Horace W. Lyford
1876-1882 - John L. Tuttle
1882-1890 - Frank H. Atherton
1890-1894 - Elhanan W. Howe
1894-1898 - Orman R. Collin
1898-1902 - Charles C. Graves
1902-1904 - Goin B. Evans
1904-1923 - Frank Tracey
1923-1927 - Herbert J. Slayton
1927-1953 - Henry C. Lawson
1953-1960 - John M. Holland
January 1960 - Joseph G. Abair
1960-1968 - Harold S. Potter
1968-1975 - Mark R. Brown
1975-1978 - Malcomb M. Mayo
1978-1987 - Ronald West
1987-2004 - Donald Edson
April-July 2004 - Philip Anthony
2004-Present - W. Samuel Hill
Towns We Serve
Barre
Berlin
Cabot
Calais
Duxbury
East Montpelier
Fayston
Marshfield
Middlesex
Moretown
Northfield
Plainfield
Roxbury
Waitsfield
Warren
Waterbury
Woodbury
Worcester