Your printer friendly content from www.vtsheriffs.com on November 28, 2023.
Vermont Sheriff's Departments: Washington County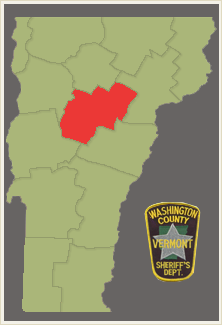 Washington County Sheriff's Department
10 Elm Street, P.O. Box 678
Montpelier, VT 05601-0678


Phone: (802) 223-3001
Fax: (802) 828-3611

Website: www.vtsheriffs.com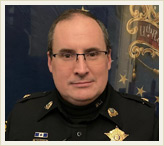 Sheriff:
---
Sheriff Marc Poulin
Sheriff's biography is coming soon..
---
History
In 1810 Jefferson County, Vermont was established. In 1814 the name was changed to Washington County, renaming the County after George Washington. Washington County is approximately 695 square miles and is one of two Counties' (Washington and Lamoille) that are not bordered by another State or Canada. In 1820 there were 14,113 people in living in Washington County. The 2010 census found 59,534 people now to be living in the County. Montpelier is the Shire Town and is also the State Capital. The current State House is actual the 3rd, as the first two burned down.

Washington County's first jail was built into the dwelling erected by Montpelier's founder, Jacob Davis, shortly after his arrival as the first settler in 1787. That building was given to the County by his son Thomas Davis and was rebuilt in granite in 1832. Another jail was built in what is now known as Jail House common, at 24 Elm Street, Montpelier, Vt.

Completed in 1900, a new Jail and Sheriff's House was built at it's currently location, 10 Elm Street, Montpelier, Vt. The Sheriff's House is now the Sheriff's Office and the Jail has been remodeled into Probate Court.

The Sheriff's Office currently has 10 full time Deputies, two Office Staff members, the Sheriff and many part time Deputies. The Office preforms its statutory functions of transporting prisoners, mental health workers and juveniles as well as serving civil process. The Office is also responsible for security at Criminal, Family, and the Civil Divisions in Washington County, as well as Supreme Court. The Office contracts with 10 towns with in the County for Motor Vehicle Patrol as well as preforming a multitude of security and traffic functions throughout the County.
---
Our Department's Historical Listing of Sheriffs'
Sheriffs of Washington County Vermont
1811-1813 - John Peck
1813-1814 - Chapin Keith
1814-1815 - George Worthington
1815-1819 - Chapin Keith
1819-1825 - John Peck
1825-1832 - Rawsel R Keith
1832-1833 - Milton Brown
1833-1838 - Alvin Carter
1838-1840 - John Starkweather
1840-1841 - Isaiah Silver
1841-1843 - Andrew A. Sweet
1843-1846 - George W. Barker
1846-1848 - Addison Peck
1848-1849 - Ira McLoud
1849-1850 - Joseph W. Howes
1850-1851 - Ira McLoud
1851-1853 - Issac W. Brown
1853-1854 - James M. Richardson
1854-1856 - Obadiah Wood
1856-1858 - Jonathan H. Hastings
1858-1860 - Issac. C. Brown
1860-1862 - Jasper H. Orcutt
1862-1864 - Angier M. Jackson
1864-1866 - Orren W. Orcutt
1866-1869 - Clark King
1869-1871 - Alonzo C. Pearce
1871-1872 - Issac W. Brown
1872-1876 - Horace W. Lyford
1876-1882 - John L. Tuttle
1882-1890 - Frank H. Atherton
1890-1894 - Elhanan W. Howe
1894-1898 - Orman R. Collin
1898-1902 - Charles C. Graves
1902-1904 - Goin B. Evans
1904-1923 - Frank Tracey
1923-1927 - Herbert J. Slayton
1927-1953 - Henry C. Lawson
1953-1960 - John M. Holland
January 1960 - Joseph G. Abair
1960-1968 - Harold S. Potter
1968-1975 - Mark R. Brown
1975-1978 - Malcomb M. Mayo
1978-1987 - Ronald West
1987-2004 - Donald Edson
April-July 2004 - Philip Anthony
2004-2023 - W. Samuel Hill
2023-Present - Marc Poulin
Towns We Serve
Barre
Berlin
Cabot
Calais
Duxbury
East Montpelier
Fayston
Marshfield
Middlesex
Moretown
Northfield
Plainfield
Roxbury
Waitsfield
Warren
Waterbury
Woodbury
Worcester